Kaltxì ma frapo,
MOMS Ball Avatar has asked my to post the following adventure he had when he went to see TORUK - The First Flight, so here it is:
"I went to the performance of "Toruk the Frist Flight", in Lafayette, Louisiana. It was the second of two performances. I was painted and had a blue cape over me. The cape was good for a few reasons. It keeps the paint of the car seat, paint on you, and keeps you warm, sort of.
I was stopped on the way in by three different artists (that's what they call them). I guess that is a good description because they are high wire, harnessed, gymnasts, puppeteers, dancers, singers, orators, and many many people in support that make it work.
Anyway I digress. The artists had their face paint on from the first show. They had their eyes made look bigger by putting white face paint around them. They had no nose prosethics.
So a number of them all stopped me separately to take selfies with me. They all wanted to touch my nose, my tail, wig, my knife, and my painted skin. One guy showed me his tail. It was very thin, small diameter, light, and just a scruff of a piece of hair for the tip. However, all I have to do is walk and sit. They have to do spectacular stunts, jumps, dances, and high wire acts.
I didn't think about it until they started talking, but they were from all different countries. I heard an Aussie, a Brit, Spainard, and French. They seemed very excited about seeing someone besides themselves as a Na'vi. I think it pleased them! That made me very happy to make them happy! I'm just a Super fan of Avatar that paid for ticket. They are the stars.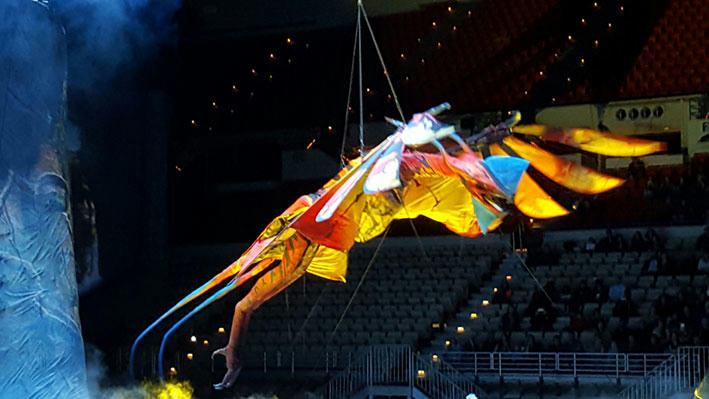 So I went inside and bought a Cirque du Soliel book with the entire story line and much, much more. The book is written in French and English. It is beautifully illustrated on thick photo finished pages. Even if you don't go to the show it is worth getting the book. Each clan from the show has a chapter about it in the book. The chapter tells of the traits, background, and special qualities that makes the clan different from the others. Each clan has different jewelry, headdresses, knifes, bows, armband, skirts, and ceremonial artifacts.
The book tells the story of three young Na'vi and their trek to become the first Toruk Makto. It speaks of becoming one with nature, one with Eywa, or Gaia. (See more than one clan has different names for Eywa-dish spirits.
All of the story is set thousands of years BEFORE the skypeople show up. So it has its own separate story line from Avatar. All of the production was approved by Cameron and Landau. Pictures and bios of them and all of the production, cast, and anyone involved with the show. Each of the artists have their clan name, and any other function or part they played. The book was $30 and worth every penny of it! They probably sell it online, but I haven't looked. I'll buy the T-shirt later.
Anyway back to my adventure. I'm still standing in line and it seemed like everyone wants to take a picture with me. It's not about me. It's about an attitude and way of life. I tell them to remember these things; be nice to the other humans, be good to the planet, and all of our energy is borrowed and we have to give it back, so do good with it while you have. I think those thoughts actually stuck with some of those people. I told some people about TOS if they want to know more. I said there is a place to donate money to help save the rain forest too. (One lady even wrote me a check for $100 once at a party and I gave it back to her and said donate to the site, or rain forest.)
I am always amazed how Avatar has touched and influenced so many people in all walks of life and countries. Many times people just make gestures to take pictures because they don't speak English. Kids mouths are always open and happy and scared at the same time.
It's sort a like being a blue warrior Santa, but no presents, just a bow.
The publicist came over and introduced herself to me. She said some of the artists saw me and told her about me. She said that the cast would like to take a picture with me at the end of the show. Would I mind coming with her after the show to take a picture with all of them... Hmmm, let's see...... YES!!!!!! She took a picture of my ticket so that she would know where I was sitting and would come to get me. I could hardly believe it! I was very flattered. I had seen Cirque du Soleil many times on TV and was always amazed at what they did. Now I get to see them in person, painted, and take a picture with the cast at their request. Wow! I felt that I just passed through the eye of Eywa.
So the doors opened to the performance and everyone went in to sit down. I got first row, floor. It was $137, but that was the cheapest part of the deal. The paint is $200, the lady that paints me for five hours is $250 and she is worth every cent of it. The publicist came checked on me to make sure she could find me at the end.
The area is the performance is about 80 yards long by 40 yards wide by 50 yards high. You are allowed to take pictures too if you leave your flash off. The light is good enough for it too. At the far end there is Hometree that is about 50 yards high and 40 yards wide. There is one large center stage about 25 yards circular. It has ramps up and down all over it. There are four stages in each corner for the story as it unfolds. Many smaller sets all over the area too. Overhead there is a major circular structure that many aerials that will be performed on, around, or from it.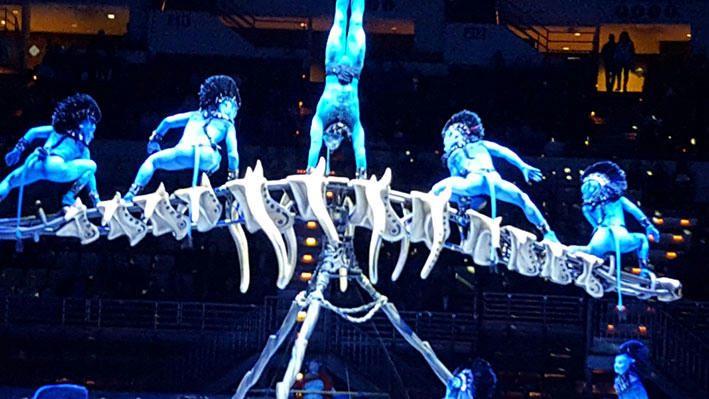 The lights go down and…well, it was just awesome! The lighting, puppeteers, performers, narrator and with Na'vi spoken. A very nice touch. My Na'vi is limited and awful, but I did understand a few things they were saying. I asked the publicist about them speaking Na'vi. She they all had to learn it. Cool!! I was told this was the first time Cirque du Soleil ever had a narrator speaking English instead of French.
All of the performers came out at the end and took a bow. They got a standing ovation, of course.
Just like Avatar you can watch it over and over again and see things that you didn't see before. I could easily see it five more times and still not catch it all. There aren't enough words in Skypeople talk or Na'vi to properly give it a proper description. Awesome is seriously overused. But if you must use that word than please do.
As I was leaving and wanted to see the set closer. Of course more pictures, blah, blah, blah, but I still like it and I am representing TOS and Na'vi so I MUST be polite. Finally, the publicist got me from the crowd and brought me to take pictures with the cast. We went through two levels of security to take pictures. The second door opens and there they were!!!! They were waiting for me!! Wow!! It doesn't get any better than this? NO IT DOESN'T. Even winning at the Mardi Gras ball or win at Comic Con could not beat this: Taking a picture with Cirque du Soleil Na'vi. I couldn't believe it. What an honor!!
So the publicist took some pictures and even put one on the Cirque du Soleil Face book page. Wow! I even got to take the romantic picture with Jake and Neytiri nose to nose under the Tree of Souls. She was very pretty and handed someone her camera to take a picture of us. She said, "hurry up and take the picture! I don't want to miss this one!". The publicist took the picture with her camera. She is going to send it to me. My phone died from all of the pictures and short videos I had taken. She BETTER get me that picture. It isn't every day that you get a chance to take a romantic picture with a pretty Tipani clan tsmuke!!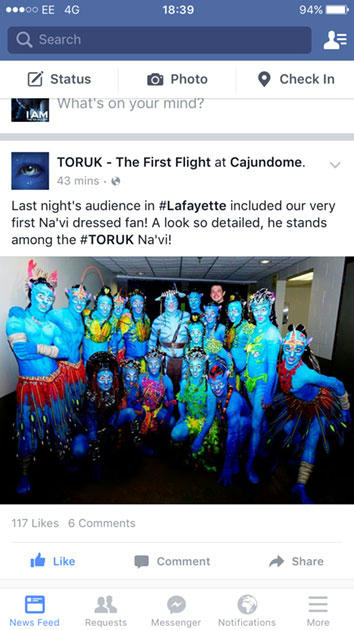 I had to take a look at their head dresses and jewelry before I left. They were all sewn into the body suits that they wear. It had to be with all of that jumping, dancing, flips, and more that they did!! I think there were about twenty or so in the picture. They were from 18 to 28 years old. Many took separate pictures with me at the end.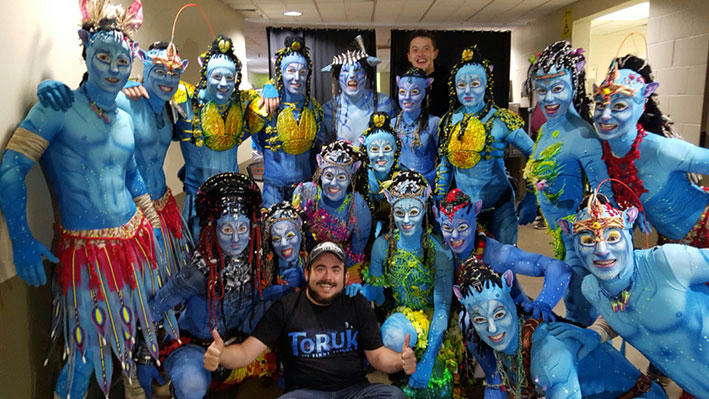 I floated all the way home with goose bumps. If you live close enough, you must see it. The couple that I sat beside all night were from Houston and it was her birthday present. The show is going to Houston and they are planning to see it there too.
Oel ngati kameie
MOM'S Ball Avatar"
Alan